Communication is a vital aspect in every person's career or professional life, thus it is one of the best ways to convey messages. So how could you maximize the exchange of messages? Well you need to use a platform and if you had enough with Slack's interface and functions, you are free and open to use other platforms. We have listed the other alternatives you can use besides from Slack.
Chanty has five main sections in their features, the Team Space Management (which lets you keep relevant people atop on your messages), Apps (your account can collaborated to third-party apps), Calls and Voice Messages, Workflows (with threads) and Artificial Intelligence which will be helpful in your search for the keywords and people in all of your conversations.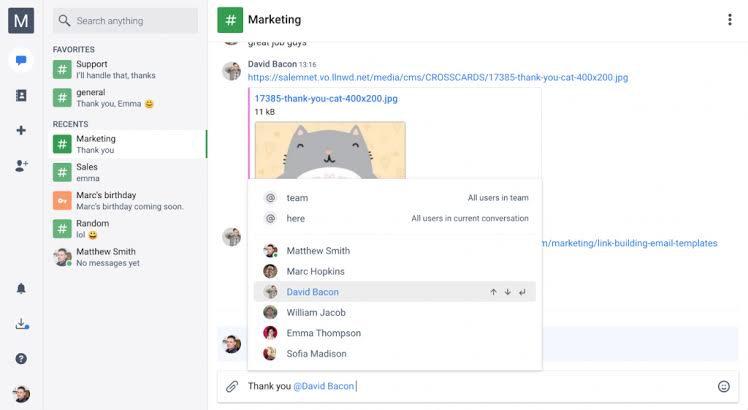 Rocket Chat also makes a case to be a good Slack alternative with hefty features of free audio and video conferencing, guest access, screen and file sharing, LDAP Group Sync, two-factor authentication, E2E encryption and unlimited users, channels, searches, messages, guests and file uploads. It has a similar feature set like Slack.

Skype is the counterpart of Slack in Microsoft and is the company's in-house messaging platform that is also used by people all around the world. Some of its features include share location, background blur, send files, translation, forwarding of calls, voicemails, caller ID, cortana and is available as a smartphone app both on Android and IOS.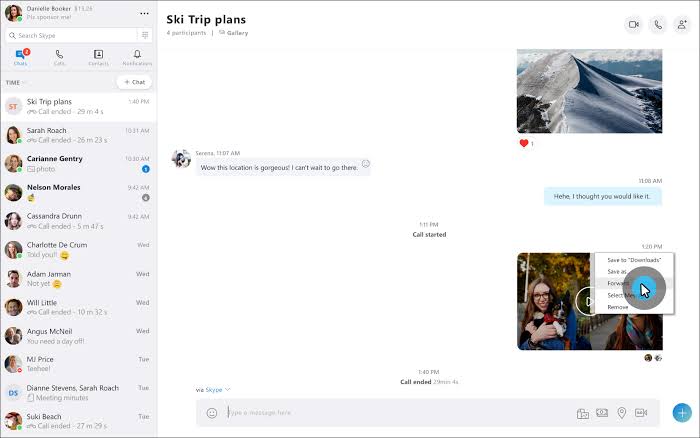 Zulip has pretty much the same function as any messaging platform but it has other unique factors to enjoy like markdown optimized for chat, emoji and emoji reactions, inline image, video and tweet previews, drag-and-drop file uploads, code and quote blocks, customizable and automatic linkification.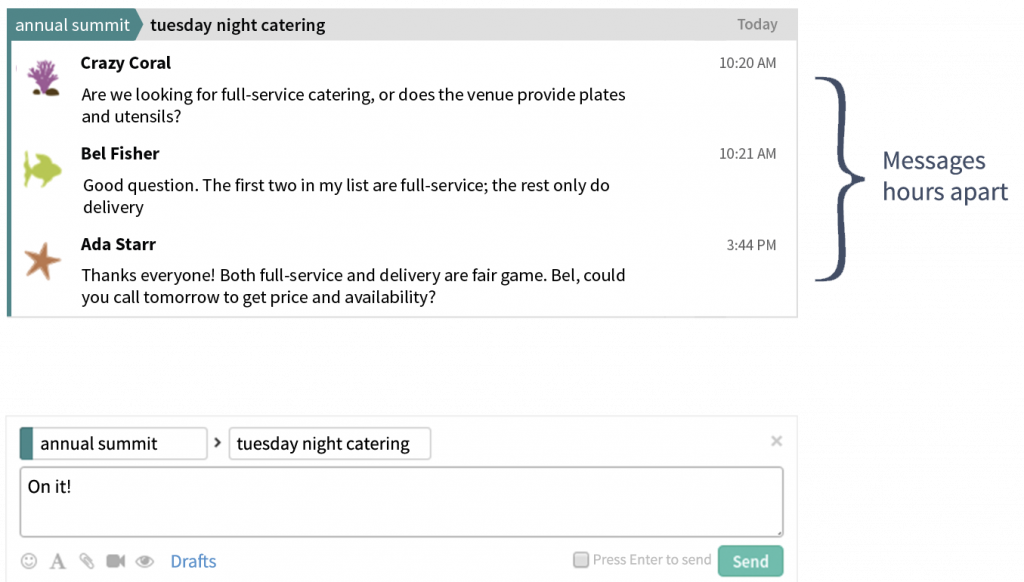 Missive has twelve main features namely Collaborative Writing, Read receipts, Send Later, Snooze, Pinned Conversations, General, Team and 1-to-1 rooms, Rules, API, Webhooks, Themes, Out of Office and Contact Management. Missive can also be synced and integrated with Asana, Pipedrive, FullContact, Todoist, Trello and Shopify so this is perfect for business enterprises.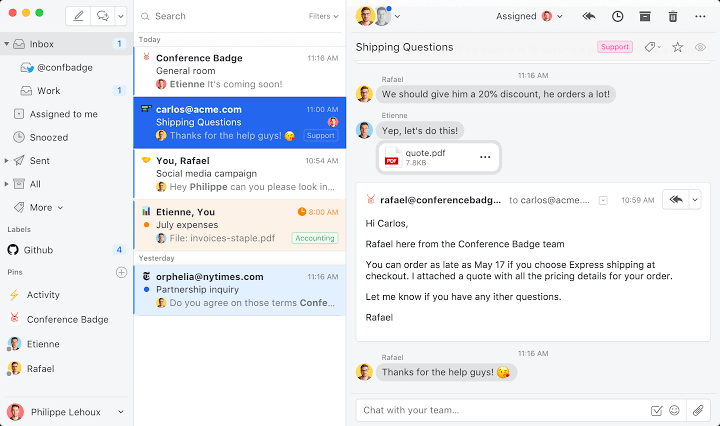 Bitrix24 as we all know has different solutions and one part of their solution is communication. It has five main features of Social Intranet Portal (which includes Activity stream, conversations, employee polling, mandatory announcements, view statistics, and reactions), Actionable Workchat (which includes Public and private chat, group and persistent chat, company chat channel, chat to task conversion, chat history search and web, desktop, mobile chat apps), Shared Calendars (which includes personal, group and company calendars, public and private events, event scheduler and invitations, flexible access right settings and mobile calendar), Business VoIP phone system (which includes Cloud PBX, employee extensions, voicemail and call forwarding), and Internal and External Collaboration (which includes limited access for external users, extranet workgroups, extranet chat, collaborative email and collaborative Bitrix24 accounts.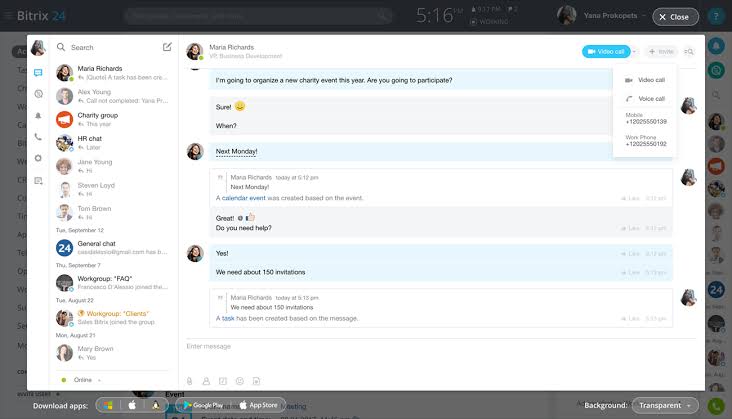 If Microsoft has Skype then Google has Google Hangouts. Although it has a paid subscription for Business and Enterprise, users can enjoy the free service with the following features – Hangouts Meet, Native Apps for Android and IOS, Presentations, External Participants, Dial in from a phone, up to 25 maximum number of participants and Secure Meetings.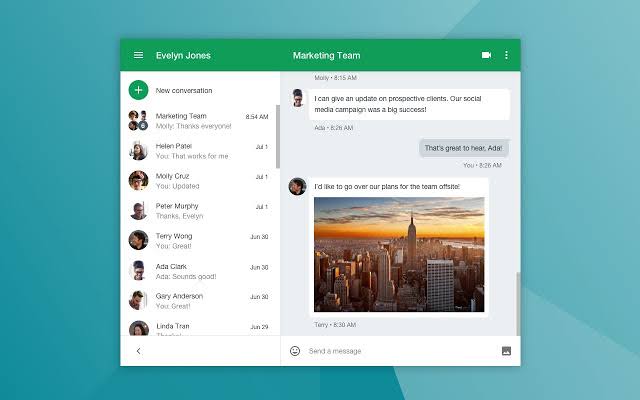 Fleep is under Fleep Technologies and has the following features : Pinboard in every conversation, create, assign and track the tasks, file drawer for all of your files, presence features (which means that you can track the last time that a user was active), audio-video calling and sharing, integrations with selected third-party applications and of course the Fleep API.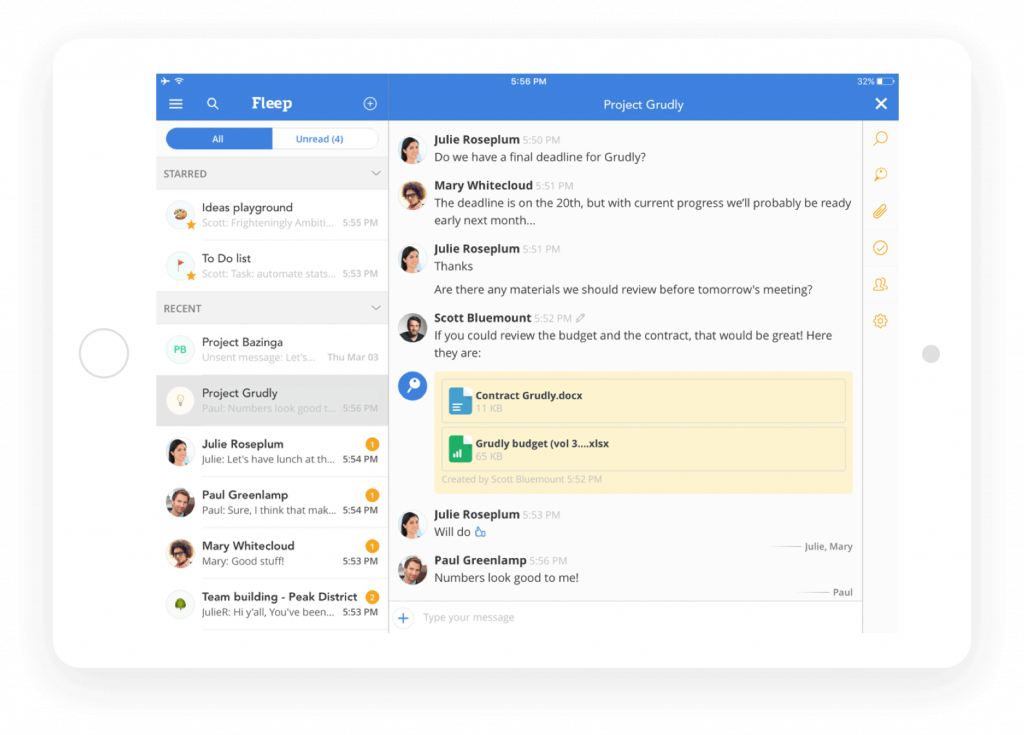 With Hibox you can enjoy the following messaging services – task management (where you can assign and set deadlines), company chat (various streams for different teams/departments), group video chat (live face-to-face video call with no downloads required), personal AI assistant, file sharing (share almost any type of file), integrations to other applications (such as Dropbox, Google Drive and Box), secured messages (with private, encrypted and even bank grade security cloud servers).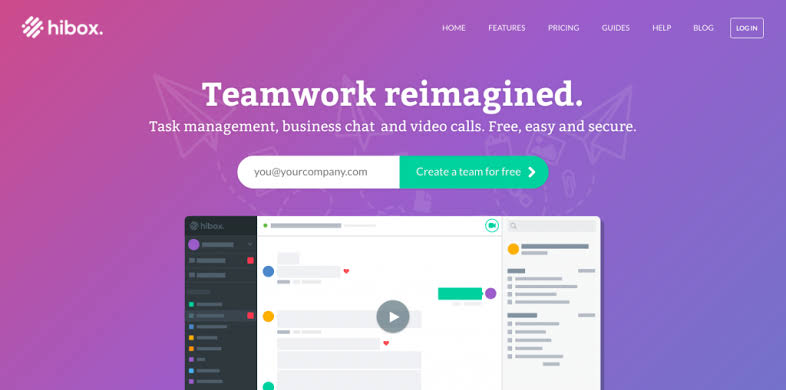 Microsoft created its own messaging app to counter other company's programs by building the Microsoft Teams. With Microsoft Teams, users can connect instantly (enables one-to-one or group video calls and share screen), reduces your email clutter (converts email threads into chat conversation for faster responses), downloadable apps for Android and IOS and powerful customization options for better user interface.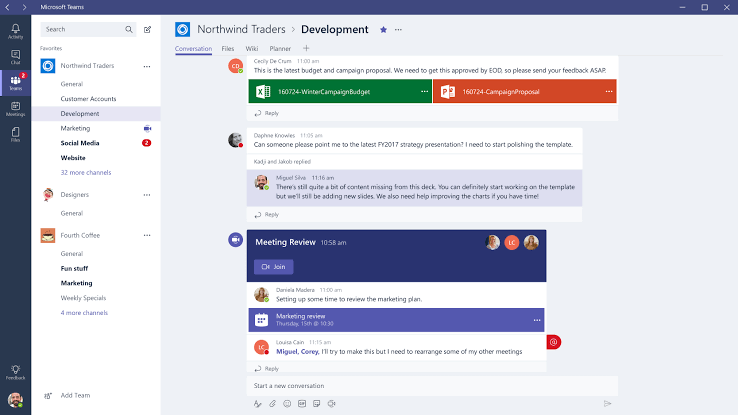 Mattermost is not just a Slack alternative but a direct competitor of the company. However, the beautiful thing about Mattermost is instead of going against the features of its rival, they are compatible with Slack which means if you want to switch from Slack to Mattermost, you can easily import your files and contacts. Aside from Slack, it is also compatible with other applications such as Jira, Giphy, SVN, RSS/Atom, etc.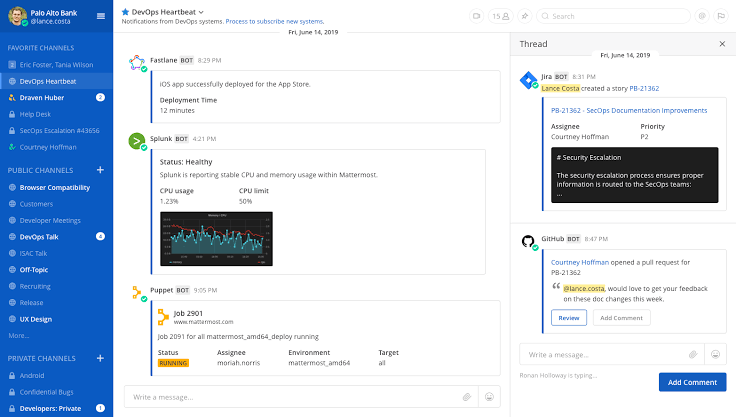 It's not about the preference of your messaging that matters at the end of the day, rather the importance and content of it. Regardless of your choice, also remember that your message should be clear, concise and valuable so the recipient would easily decipher or understand it.